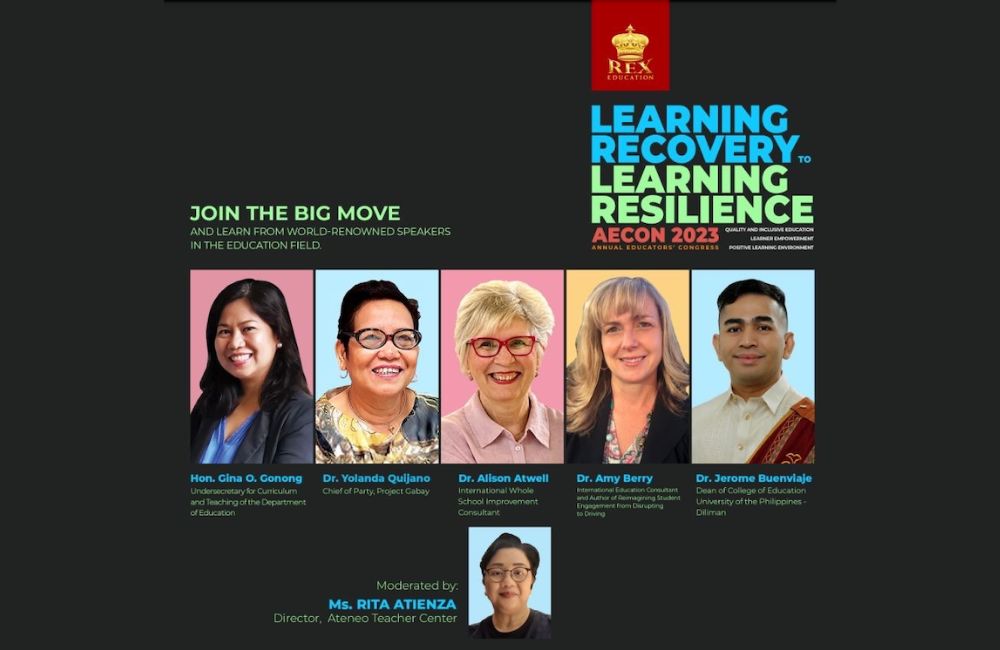 Rex Education's AECON 2023 gathers over 20,000 Edukampyons online for learning resilience
What awaits on the other side of learning recovery?
This is the question the Annual Educators' Congress (AECON) 2023 recognized and answered during the 2-day event, held virtually on January 26 and 27. Under the banner "Learning Recovery to Learning Resilience," AECON attracted over 20,000 education thought leaders, policy-makers, and practitioners to convene and discuss emerging education topics and trends, and most importantly, to continue the efforts toward learning resilience.
In response to the learning loss brought about by the COVID-19 pandemic, the Department of Education (DepEd) launched a learning recovery plan in 2022. AECON 2023, organized by Rex Education, aimed to bolster DepEd's efforts by promoting resilience among learners and education ecosystems. The event featured renowned local and international speakers discussing themes such as inclusive education, comprehensive student growth, and student engagement strategies. Breakout sessions covering various education topics allowed participants to delve deeper into their areas of interest. Dr. Jerome Buenviaje emphasized the significance of resilience in achieving quality and inclusive education during the synthesis session, motivating attendees to continue the journey from learning recovery to learning resilience. Rex Education's commitment to nurturing lifelong learning and supporting learners' well-being and success shone through AECON, where educators, policy-makers, and practitioners came together as champions of education to make a difference in the lives of students.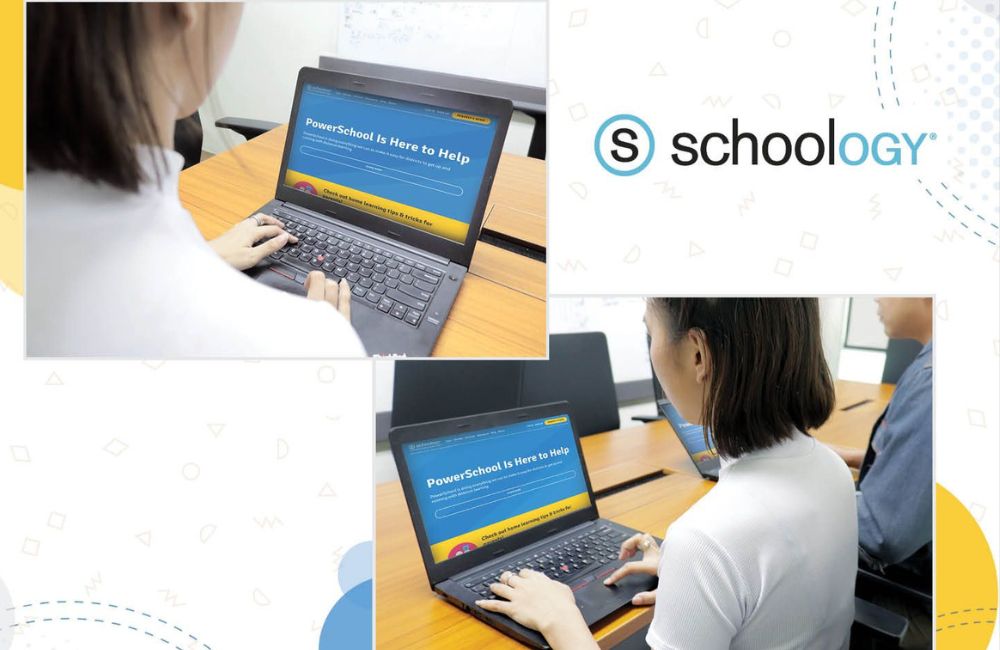 Schoology: The Breakthrough Classroom of the New Normal
During the COVID-19 pandemic, the education sector sought guidance on continuing learning despite limitations at home. Schoology by Rex Education emerged as a popular cloud-based LMS, enabling educators to create engaging content, teach lessons, and assess student performance in one platform. It offers user-friendly tools for creating instructional materials, shared resources like lessons and assignments, efficient grading features, and data analytics for tracking student progress.
Schoology's strengths lie in its easy navigation, broader reach, and built-in collaboration feature, connecting users across the network for improved communication and sharing. It seamlessly integrates with various apps and systems and provides access to resources and discussions through its mobile application. As learning management systems gain significance, Schoology proves vital in managing, planning, and delivering the learning process. Even as schools return to face-to-face learning, the breakthroughs of online learning are likely to persist, with Schoology serving as a valuable tool to enhance educational strategies and accommodate more students.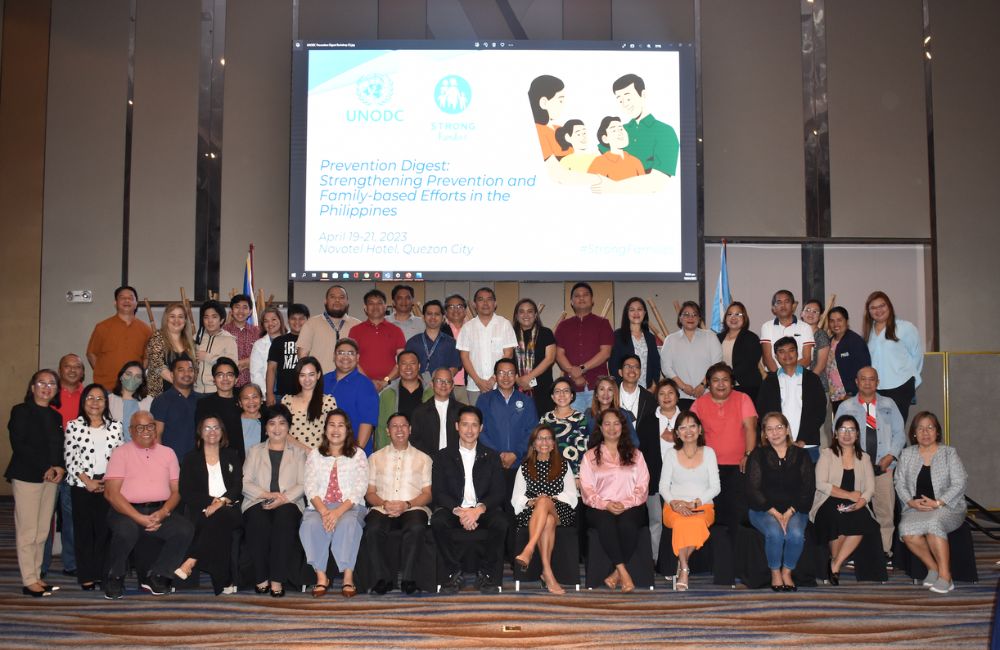 Rex Education's 'Bawat Paaralan Edukampyon Continuum' recognized at UNODC Conference as an exemplary school-community-family program for strengthening drug-abuse prevention
During the United Nations Office on Drugs and Crime (UNODC) Conference on April 19 to 21, 2023, at Novotel Manila, Quezon City, Rex Education bared its 'Bawat Paaralan Edukampyon (BPE) Continuum' for strengthening drug-abuse prevention.
UNODC's Conference gathered organizations, policymakers, and prevention implementers for discussions on addressing drug-related problems in the country. Under the theme "Prevention Digest: Strengthening the prevention strategy and family-based initiatives in the Philippines", UNODC encouraged individuals and groups to share drug-abuse prevention responses that are health-centered and based on family intervention. The agenda tackled the healthcare system, evidence-based programs, and Philippine experiences in family-centered interventions.
During the 3rd day of the event, REX was among the government and non-government organizations who shared their experiences with prevention programming, as well as the impact and influence of these initiatives.
Taking a whole school approach to reform initiatives
BPE officially launched during the January 2021 Annual Educators' Congress, where 400 private and public schools expressed interest and intent in pilot implementing the framework.
In March 2021, pilot implementation for BPE began with 13 schools completing one implementation cycle. These schools were Marantha Christian Academy, St. Edward School, Canossa Academy Calamba, Ednas School, Cherished Moments School, Colegio de Santa Rita de San Carlos, Inc., Cabulay High School, San Andres Elementary School, Divisoria High School, Rosario National High School, Sagana National High School, Patul National High School, and Sinili Integrated School.
REX gave life to the portmanteau 'Edukampyon', a combination of the words edukasyon (education) and kampyon (champion) to mean champions of education. The BPE program is grounded in the Edukampyon advocacy: To engage duty-bearers and build their capacities for respecting, protecting, and fulfilling the right to quality education.
Pursuant to BEDP 2030, REX advocates a whole school approach that entails the collaboration of all members in a school community. The whole school approach recognizes that the informal curriculum is just as valuable as the formal one, highlighting the importance of providing learners with inclusive and safe environments beyond the classroom. This framework is meant to advance agendas on global education and reform initiatives such as health awareness, eradication of violence, and drug-abuse prevention.
The whole school approach also comes into play in promoting the six facets of the Filipino whole learner. REX has identified various indicators that should ensure a Filipino learner is healthy, safe, engaged, supported, challenged, and values-oriented. Across these indicators, there is a common theme that encourages school culture and leadership to promote learners' physical and mental health, implement policies relevant to civic participation, and equip students with the essential competencies for lifelong learning. Families and communities are recognized as a major part of this advocacy, as the success of a child's education largely relies on the effective collaboration of stakeholders advocating every learner's well-being.
Bawat Paaralan Edukampyon in support of UNODC standards
Based on the standards of UNODC, drug-abuse prevention is a significant motivator for children, young adults, and adults to contribute positively in their families, schools, workplace, and communities. Drug-abuse prevention at the school level focuses on the health and safety of children and youth, in a bid to encourage self-actualization that can lead to the realization of their full potential, prompting them to become productive members of society.
UNODC has found that developing a student's personal and social skills can prevent drug use and alcohol abuse. For children aged 10 and below, programs centered on improving resistance skills and self-control have been shown to reduce general problem behaviors in and out of the classroom. Several other factors can also influence discouragement of substance abuse, such as students' academic performance, commitment to school, and social opportunities.
To achieve these benchmarks, REX designed BPE as a three-tier implementation framework that will allow schools to conduct systematic assessments of their progress in the UNODC's domains. BPE encourages schools to work with their stakeholders, students, parents, and community members in the planning and implementation of activities and interventions that are relevant to UNODC's standards.
Bawat Paaralan Edukampyon as an exemplary school-community-family program for drug-abuse prevention
The BPE's pilot implementation allowed learners to learn about drug-abuse prevention through the collaborative efforts of their teachers, administrators, parents, and other stakeholders. In particular, parents reported feeling more engaged and knowledgeable of their children's school activities and priorities after participating in the BPE process.
The participating schools showed significant levels of involvement and support, having developed appreciation for the BPE framework. REX intends to leverage this support in fine-tuning effective BPE advocacies, communications, and education initiatives for more schools across the nation.
In doing so, REX was able to complement UNODC's standards on drug-use prevention. Placing value in partnership, emphasizing the importance of effective parenting, and delivering evidence-based prevention strategies proved to be the pillars that drove the success of BPE's initial launch. REX is committed to pushing BPE at a wider scale, in a bid to ensure children and youth become invulnerable and more resilient to drug use.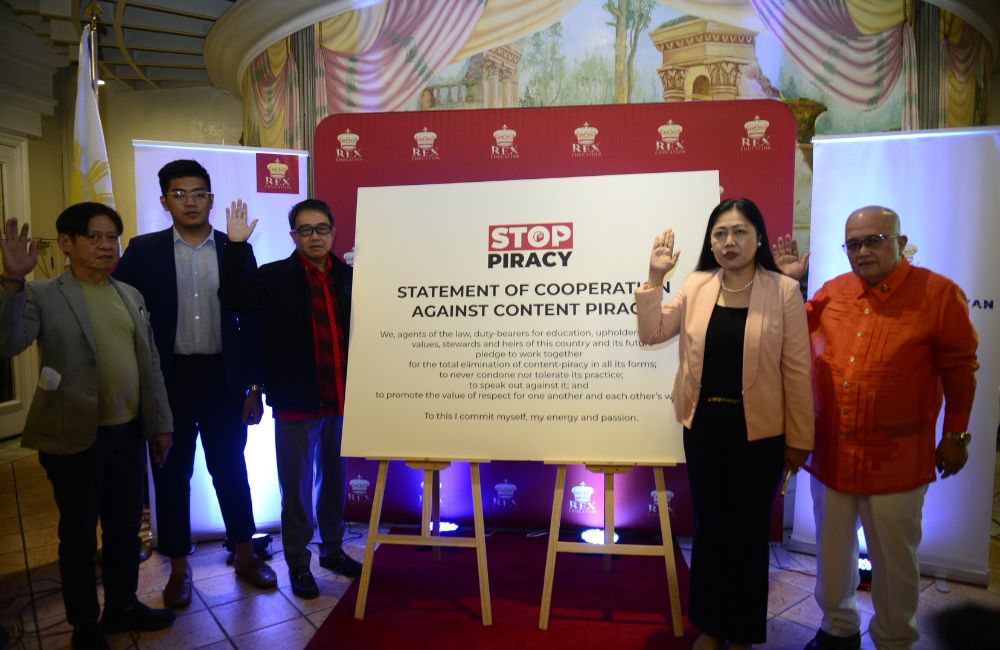 Intellectual property law enforcement, student academic groups, publishers sign statement of cooperation against content piracy
Rex Education hosted a press conference recently, bringing together key organizations committed to educating people about piracy and stopping the illegal reproduction and distribution of copyrighted content.
Present at the event were leaders and representatives from the Philippine Association of Law Schools, the Association of Law Students of the Philippines, the Legal Education Board, the Intellectual Property Office of the Philippines, the National Book Development Board, the Coordinating Council of Private Educational Associations of the Philippines, the National Bureau of Investigation, Association of Administrators in Hospitality Hotel and Restaurant Management Educational Institution, the Philippine Librarians Association, the Philippine Council of Deans and Educators in Business, the Philippine Association of Collegiate Schools of Business, Philippine Association for Teachers and Educators, Professional Criminologists Association of the Philippines,  Association of Christian Schools, Colleges and Universities and the Philippine Educational Measurement and Evaluation Association.
Piracy is defined as the unauthorized reproduction and distribution of copyrighted content, including but not limited to books, movies, music, and the like. In the Philippines, anti-piracy legislation is strengthened by Republic Act 8293 or the Intellectual Property Code of the Philippines that protects and secures the exclusive rights of scientists, inventors, artists and other gifted citizens to their intellectual property and creations.